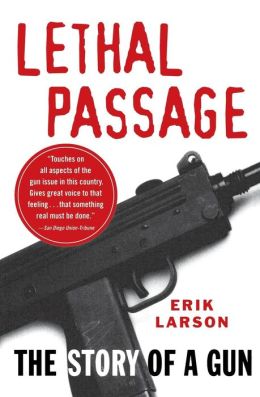 Erik Larson 1994
Book Overview from Barnes and Noble:
This devastating book begins with an account of a crime that is by now almost commonplace: on December 16, 1988, sixteen-year-old Nicholas Elliot walked into his Virginia high school with a Cobray M-11/9 and several hundred rounds of ammunition tucked in his backpack. By day's end, he had killed one teacher and severely wounded another.
In Lethal Passage Erik Larson shows us how a disturbed teenager was able to buy a weapon advertised as "the gun that made the eighties roar." In so doing, he not only illuminates America's gun culture — its manufacturers, dealers, buffs, and propagandists — but also offers concrete solutions to our national epidemic of death by firearm. The result is a book that can — and should — save lives, and that has already become an essential text in the gun-control debate.
In this compelling book, centered around a devastating act of violence perpetrated by a 16-years-old boy with a machine gun, Larson not only illuminates America's gun culture — its manufacturers, dealers, buffs, and propagandists — but offers concrete solutions to our national epidemic of death by firearms.
What Hooked Me:
How sickening that not much has really changed since this book was written twenty years ago and that the quote from p. 211 had to come true because of our inaction? The quote from p. 213 is particularly disturbing and I pray that we have indeed reached our watershed and that a third and comprehensive federal gun legislation will happen soon.
The Quotes:
'On a bitter, cold December morning, a sixteen-year old boy walked into the Atlantic Shores Christian School in Virginia Beach, Virginia, with a semi-automatic handgun and several hundreds of ammunition tucked into his backpack.'(opening line)
'Guns are a subject that too often divides America into warring camps, even though the beliefs of the great, moderate mass of Americans, whom we too readily classify in combat taxonomy as pro-gun and anti-gun, gun nut and gun hater, simply aren't that deeply opposed. Somewhere along the line, extremists on both sides succeeded in shaping the debate so that no one has a choice but to leap into a trench and start firing away with whatever ammunition has been piled near at hand, be it distorted statistics or empty slogans, (My favorite: "If guns are outlawed, only outlaws will have guns.") The two camps have more in common than not: they both want to make sure that guns only wind up in the hands of stalwart, responsible citizens.'(p.12)
'The Consumer Product Safety Commission can order the recall of toy guns, just not real ones.'(p.13)
'One evening I found myself a guest at a dinner in Smyrna, Georgia, thrown by the state affiliate of the National Rifle Association, where the door prizes were ammo boxes full of .38 Special ammunition and the raffle prizes were guns.'(p. 14)
'Before advancing any further, I should first make my bias clear, for bias more than any other force shapes debate about guns in this country. I am not opposed to guns, not even handguns, provided the owners acknowledge the monumental responsibility conferred by ownership; provided too that they invest the time necessary to become safe, proficient users and to store those guns in a cabinet strong enough to hold burglars and toddlers at bay. ... I now ask the parents of my daughter's playmates if they own guns and, if so, how they store them. If they store them loaded, even in a locked cabinet, my children do not play at their homes. Period.'(p.24)
'I cross the friend-foe line too in my belief that America is currently in the midst of a gun crisis that can no longer be considered just a manifestation of that good old frontier spirit but instead has become a costly global embarrassment.
That a handgun crisis does exist should be well beyond dispute by now, given the bleak slag heap of statistics on gunshot death and injury now casting its shadow over our society. These statistics could kindle outrage in a stone but have failed, somehow, to shake any tears from America's gun industry and the gun culture that supports it.' (p.25)
'The ease of making this challenge and the impossibility of ever fully defending against it have allowed the gun camp to obscure the debate over firearms distribution, when in fact there is an abundance of credible evidence that where there are more guns, there are more deaths from guns. The NRA's sloganeering notwithstanding, the evidence suggest that guns do indeed kill people.
A landmark study in King County, Washington, which includes Seattle, found that a gun kept at home was forty-three times more likely to be used to kill its owner, a family member, or a friend than an intruder.'(p.29)
'Buffalo Bill and his contemporaries the dime novelists, pulp writers, and overly enthusiastic reporters also assisted in myth manufacturing in a more indirect, but possibly more significant way. They provided the plots that Hollywood would soon use to reinforce the distortions of myth, among them the notion that when all else fails, a gun can save us.'(p.53)
'Gun manufacturers have little interest in saving lives, although they struggle to convey the image that they are the last defenders of hearth and home, that their guns will stand by you long after marauding gangs force the police into retreat.'(p.57)
'In 1991, New York City police were astonished to find that the sniper who had just barely missed hitting a clerical worker in a Bronx office building was a nine-year-old boy wielding a Cobray. Asked how he learned to operate the gun, the boy answered, "I watch a lot of TV."'(p.67)
'One must be a cool customer to stay in business knowing that the products one sells are likely to be used to kill adults and children or to serve as terrorist tool in countless other robberies, rapes, and violent assaults. Yet gun dealers sell guns in America the way Rite-Aid sells toothpaste, denying at every step of the way the true nature of the products they sell and absolving themselves of any and all responsibility for their role in the resulting mayhem.'(p.89)
'Clearly, the role of movies and television in stimulating violence can never be quantified. Their impact, however, seems obvious. Consider how the phrase "Make my day" migrated from the movie
Dirty Harry
to car bumpers from coast to coast, even to a presidential speech, and, in slightly altered form, to the dialogue in a Disney "Duck Tales" cartoon. Recall too how sales of the Ingram sub-machine guns boomed after
McQ
, how
Dirty Harry
jolted sales of the Smith & Wesson Model 29. Add to this the American Psychological Association's estimate that by the time a child finishes elementary school he will have watched eight thousand murders on television.'(p.186)
'Today when we send our kids off to school, we experience a brand-new anxiety, the fear not that some bully will rough them up and steal their lunch money, but that they will be shot dead.'(201)
'In 1975, a congressional subcommittee asked the NRA's Harlon Carter if he felt it was preferable to allow felons, drug addicts, and the mentally ill to acquire guns, rather than to establish a means of checking the backgrounds of all buyers. Yes, Carter responded, it was "a price we pay for freedom."'(p. 201)
'In discussing this book with my editor and her marketing associates, we all came to the same conclusion. This book would never lack for a promotional tie to a national news event because a new massacre was bound to occur within the viable lifetime of the book, and this massacre would be more horrifying than the last.'(p.211)
'The place to start is with guns themselves, and the time is now. There will be no better time. There will be far worse times.
Unfortunately, as the history of federal gun legislation so clearly demonstrates, a dramatic worsening may be necessary. The tommy-gun massacres brought the first federal controls; the riots and assassinations of the sixties brought the second. What will bring the third, in a country so stunned by violence that we now expect and accept armed rampages as if they were natural phenomena like hurricanes and tornadoes? "Maybe that's the answer," said David Troy, the special agent responsible for ATF law-enforcement in Virginia. "Right now you have people who are involved in violent crime and firearms violence who were never touched by it before. Maybe there is a watershed coming in the United States. We haven't gotten there yet."'(p.213)
First Vintage Books Edition
247 pages
Nook Copy owned